Spain a perfect country for triathlon
The Costa Blanca as a training camp for the triathlon
It is striking how many clients have recently rented our road bikes in order to carry out their training camp for the triathlon here in the Costa Blanca. Why is this part of Spain such a perfect place for a triathlon training?
Triathlon
The name triathlon is used for a collection of endurance sports that are practiced together in one training or competition. Sometimes it is also called multisport. This is usually a combination of swimming, cycling and running. At least when it comes to the summer version. In most cases cycling is about cycling on a racing bike and sometimes on a mountain bike.
Types and names
The Ironman is the so-called original triathlon in which a distance of 3.8 km is swam, 180.2 km is driven on the racing bike and the marathon is run 42.195 km. Nowadays mainly the 'standard' triathlon (formerly the Olympic triathlon) is included in competitions. This involves swimming 1.5 km, after which 40 km is cycled to finally run another 10 km.
A duathlon is a combination of both running and cycling. Sometimes this is divided into 3 parts with running, cycling and finally running again. The distances can differ per race.
La Nucia
Many of our cyclists stay in the well-equipped Velovilla in La Nucia. A large villa where they can stay with their cycling friends or family. Take a look at the website to see if you also want to stay here. From La Nucia you can cycle in all directions for the necessary kilometers. Towards the hinterland, good routes can be made in the mountains with beautiful views. If you cycle towards the coast of Villajoyosa, Benidorm or towards Albir and Altea, you can make a more flatter training ride.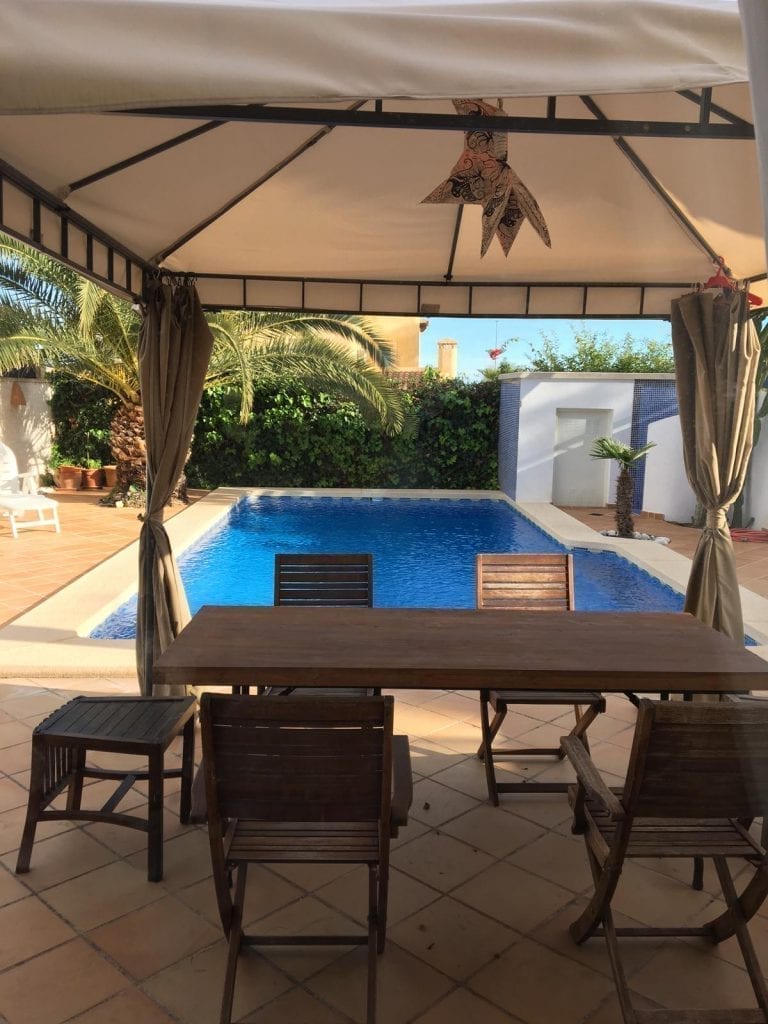 La Nucia sports park
Ciudad Deportivo Camilo Cano is the official Spanish name of the sports park in La Nucia where there are facilities for 66 different sports. It is not without reason that La Nucia has twice won the prize for best sports city in Europe! The park has both a 25-meter climatized indoor swimming pool and a 25-meter outdoor swimming pool, ideal for swimming training for athletes. But also the sea at a distance of about 6 kilometers from La Nucia is a real possibility for swimming training during a large part of the year. Work is currently underway on the construction of a new 400-meter athletics track, where the running training sessions can take place.
Sports in Alfaz del Pi
Although less impressive and large, but also wonderfully quiet for training, the sports park is located in the center of Alfaz del Pi. Here you will also find a large outdoor swimming pool and a 400-meter athletics track. Given the good quality of the facilities, the hospitality of the managers and the central location in the Costa Blanca, Alfaz del Pi is very suitable as a base for a triathlon training camp.
Comfort, convenience and facilities in one
A good training camp must meet a number of facts. Certainly when it comes to the triathlon, a correct dosage of the various sports activities must be made. Choose a stay in Velovilla in La Nucia that has fitness equipment, a small private outdoor pool and a sauna. Our Carbon racing bikes (book here) are delivered on site and are assembled with Shimano Ultegra, making both flat driving and cycling through the mountains a great choice. With the sea and lots of sports facilities within 6 kilometers, the choice is quickly made to plan your triathlon training camp in Spain, on the Costa Blanca!